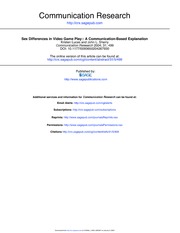 This is the end of the preview.
Sign up
to access the rest of the document.
Unformatted text preview: f hours spent playing video games each week was 8 hours, with male players reporting a mean of 11 hours per week and female players reporting a mean of 4.25 hours per week. Hypothesis 2b was supported (Young women: M = 8.58, SD = 10.45; Young men: M = 15.58, SD = 14.13), t(367.52) = 5.50, p < .001. Further data analysis was limited to respondents with personal experience playing video games. To be included, respondents had to meet one of the following criteria: (a) indicate that they play video games for at least 15 minutes during a typical week or (b) indicate that they have knowledge of more than one half of the different genres of video games (i.e., not circling "0 don't know" on the genre scale and indicating "5 like" or "6 strongly like" for at least one genre). These criteria were used to ensure that people who have little knowledge of or personal experience with video games were excluded from the analysis. Furthermore, it also excluded people who indicated disliking all video games. However, it included people who may not be regular vi...
View Full Document
This note was uploaded on 02/01/2009 for the course COMM 1126 taught by Professor Casad during the Spring '09 term at Cornell.