This preview shows page 1. Sign up to view the full content.
View Full Document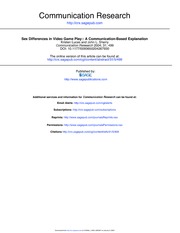 This is the end of the preview.
Sign up
to access the rest of the document.
Unformatted text preview: constrained (Rubin, 2002, pp. 525-526). The working philosophy of the paradigm is best summarized by Schramm, Lyle, and Parker (1961) who studied the uses and gratifications of television viewing: "In order to understand television's impact and effect on children, we have first to get away from the unrealistic concept of what television does to children and substitute the concept of what children do with television" (p. 169). This philosophy is particularly valuable for the study of video games given the active role that players have in determining the outcome of the game (Grodal, 2000). Application to video games. The uses and gratifications paradigm continues to provide a cutting-edge theoretical approach for researching new communication media (Ruggerio, 2000) and, therefore, is a viable approach for studying video games. In the early studies that examined uses and gratifications of video game usage, researchers used television uses and gratifications as a model for understanding video game play. For example, Selnow (1984) added two dimensions to Greenberg's (1974) television uses and gratifications scale to survey 10- to 24-year-olds about the...
View Full Document
This note was uploaded on 02/01/2009 for the course COMM 1126 taught by Professor Casad during the Spring '09 term at Cornell University (Engineering School).