This preview shows page 1. Sign up to view the full content.
View Full Document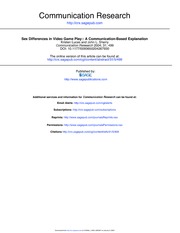 This is the end of the preview.
Sign up
to access the rest of the document.
Unformatted text preview: deo game uses and gratifications: competition ( = .86; e.g., "It is important to me to be the fastest and most skilled person playing the game"); challenge ( = .79; e.g., "I find it very rewarding to get to the next level"); social interaction ( = .81; e.g., "My friends and I use video games as a reason to get together"); diversion ( = .89; e.g., "I play video games instead of other things I should be doing"); fantasy ( = .88; e.g., "I play video games because they let me do things I can't do in real life"); and arousal ( = .85; e.g., "I find that playing video games raises my level of adrenaline"). Respondents reported the amount of time they spent playing video games during a typical week. To facilitate autobiographical memory (Menon, 1994), 512 Downloaded from http://crx.sagepub.com at CORNELL UNIV LIBRARY on January 2, 2009 Lucas, Sherry Sex Differences in Video Game Play respondents completed a grid that divided each day of the week into fo...
View Full Document
This note was uploaded on 02/01/2009 for the course COMM 1126 taught by Professor Casad during the Spring '09 term at Cornell University (Engineering School).