This preview shows page 1. Sign up to view the full content.
View Full Document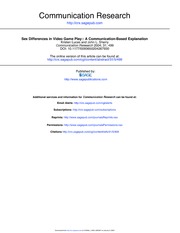 This is the end of the preview.
Sign up
to access the rest of the document.
Unformatted text preview: deo game players but report liking video games nonetheless. Moreover, nonplayers who indicated strong liking of only the card/dice, classic board games, quiz/trivia, and puzzle genres were also excluded in case they misinterpreted the survey and indicated their liking for the nonvideo game versions of those games. Applying these criteria, only 10 cases were excluded (n = 534), confirming the prevalence of video games in adolescent culture (Greenfield, 1994). Hypothesis 2, that young women will be less motivated by the social interaction gratification than young men will, was tested with a t test. Social interaction was rated by young women (M = 2.32, SD = 1.45) lower than it was 513 Downloaded from http://crx.sagepub.com at CORNELL UNIV LIBRARY on January 2, 2009 COMMUNICATION RESEARCH October 2004 Table 2 Reported Uses and Gratifications by Sex All (n = 534) Challenge Arousal Diversion Fantasy Competition Social interaction 2 Young Women (n = 305) 4.23* 3.29* 3.03* 3.04* 2.73* 2.32* Young Men (n = 229) 4.8...
View Full Document
This note was uploaded on 02/01/2009 for the course COMM 1126 taught by Professor Casad during the Spring '09 term at Cornell University (Engineering School).