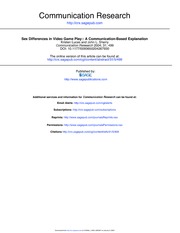 This is the end of the preview.
Sign up
to access the rest of the document.
Unformatted text preview: achers reward gender-typical play and punish gender-atypical play (Etaugh & Liss, 1992). As children seek positive feedback from the adults in their life, boys may be directed toward and girls steered away from video game playing, regardless of intrinsic interest and possible benefits. However, sex stereotyping of play is not limited only to adults. As early as preschool, and increasing throughout adolescence, children identify so-called gender appropriate play for boys and girls (Carvalho, Smith, Hunter, & Costabile, 1990). Consequently, children who engage in sex-typed play are accepted more and receive more positive encouragement from their peers (Etaugh & Liss, 1992; Moller, Hymel, & Rubin, 1992; Pellett & Harrison, 1992). Moller et al. (1992) explained that "children who do not exhibit gender-appropriate behavior are viewed as not fulfilling their gender role and are considered an anomaly. Such children may be actively rejected and alienated from their peers" (p. 333). As early as kinderga...
View Full Document
This note was uploaded on 02/01/2009 for the course COMM 1126 taught by Professor Casad during the Spring '09 term at Cornell.