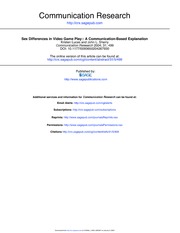 This is the end of the preview.
Sign up
to access the rest of the document.
Unformatted text preview: Fisher, 2002). As such, children who do not have access to or interest in video games are believed to be at a disadvantage compared to their peers who have exposure to video games (Cassell & Jenkins, 1998). One group that is of particular concern in regard to not reaping the benefits of video games is girls. Despite considerable debate regarding the effects of video games, one finding that has been stable throughout the past decades of research is that video COMMUNICATION RESEARCH, Vol. 31 No. 5, October 2004 499-523 DOI: 10.1177/0093650204267930 2004 Sage Publications 499 Downloaded from http://crx.sagepub.com at CORNELL UNIV LIBRARY on January 2, 2009 COMMUNICATION RESEARCH October 2004 games are liked more and played more by males than by females (e.g., Griffiths, 1991b; Kaplan, 1983; Phillips, Rolls, Rouse, & Griffiths, 1995; Wright et al., 2001). This difference may be due partially to access. According to the annual Annenberg Public Policy Center survey on family media use, 76% of homes with at least one boy own video games as compared to 58% of homes with at least one girl (Woodard...
View Full Document
This note was uploaded on 02/01/2009 for the course COMM 1126 taught by Professor Casad during the Spring '09 term at Cornell.