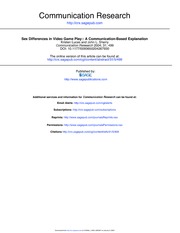 This is the end of the preview.
Sign up
to access the rest of the document.
Unformatted text preview: erience. When the medium is designed so that female players are able to meet their primary gratification of control, they will be more inclined to play. In other words, when girls and women view video games as a viable option for meeting their interpersonal orientation for control and, based on the uses and gratifications paradigm, they will play more often. As such, further experience and practice will improve their skills and reduce any preexisting, sex-based cognitive differences. When more female players find satisfaction (i.e., control) in the video game experience, the stereotyping of the video games as part of the male domain will begin to break down. Consequently, if video games are no longer viewed as a cross-sex stereotyped activity for girls and women, the likelihood of female players being able to meet their needs for inclusion and affection will be increased by engaging in video game play. 518 Downloaded from http://crx.sagepub.com at CORNELL UNIV LIBRARY on January 2, 2009 Lucas, Sherry Sex Differences in Video Game Play However, the task of creating so-called "girl games" is not so simple. Several game manuf...
View Full Document
This note was uploaded on 02/01/2009 for the course COMM 1126 taught by Professor Casad during the Spring '09 term at Cornell.