This preview shows page 1. Sign up to view the full content.
View Full Document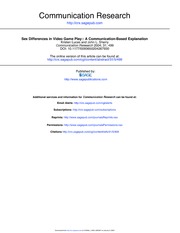 This is the end of the preview.
Sign up
to access the rest of the document.
Unformatted text preview: rten, children have identified video games as more appropriate for boys than for girls (Wilder, Mackie, & Cooper, 1985). As such, girls who play video games--particularly boyish games such as fighters and shooters--are likely to be rejected by their peers for playing with what is considered by their classmates to be a cross-sex stereotyped toy. Consequently, their needs for inclusion and affection will not be met by engaging in video game play. Cooper, Hall, and Huff (1990) showed that adolescent boys and girls had increased levels of stress when playing cross-sex stereotyped video games. However, this effect only occurred when schoolmates were present, pointing to the important role that peer disapproval has in play choice. Funk and Buchman (1996a) also indicated that social approval was an important component of video-game-play choice, placing children whose play patterns deviated from socially acceptable norms in a high-risk group for social sanction by their peers. Because young men are encouraged and young women discouraged from engaging in cross-sex stereotyped activities by way of social reward and sanction--that is, playing video games creates opportunities for young men to meet their needs for inclusion and affection and precludes young women fro...
View Full Document
This note was uploaded on 02/01/2009 for the course COMM 1126 taught by Professor Casad during the Spring '09 term at Cornell University (Engineering School).