This preview shows page 1. Sign up to view the full content.
View Full Document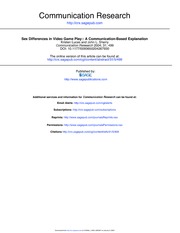 This is the end of the preview.
Sign up
to access the rest of the document.
Unformatted text preview: ely to seek activities that increase their opportunity for inclusion in groups. Belonging to a group would not only meet the need for inclusion but also would create the possibility for their needs of affection to be met. Seeking activities based on anticipated outcomes (or knowledge of previous outcomes) is consistent with uses and gratifications paradigm (Rosengren, 1974); that is, basic needs (in this case, inclusion, affection, and control) initiate social and cognitive processes whereby decisions of media use (or nonmedia activities) are determined. Taking past empirical research into consideration, interpersonal orientations of inclusion and affection suggest predictions about video-game-play 506 Downloaded from http://crx.sagepub.com at CORNELL UNIV LIBRARY on January 2, 2009 Lucas, Sherry Sex Differences in Video Game Play differences. First, video games have long been considered part of the "boy domain." Regardless of the roots of the labeling of video games as boys' toys, the sex stereotyping is problematic because it has been shown that parents and te...
View Full Document
This note was uploaded on 02/01/2009 for the course COMM 1126 taught by Professor Casad during the Spring '09 term at Cornell.