This preview shows page 1. Sign up to view the full content.
View Full Document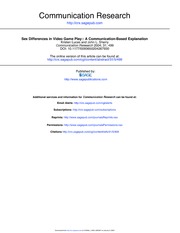 This is the end of the preview.
Sign up
to access the rest of the document.
Unformatted text preview: syn, D. A., & Fehrenbach, P. A. (1989). A study of the interpersonal behaviors of male batterers. Journal of Interpersonal Violence, 4(1), 79-89. Anderson, C. A., & Bushman, B. J. (2001). Effects of violent video games on aggressive behavior, aggressive cognition, aggressive affect, physiological arousal, and prosocial behavior: A meta-analytic review of the scientific literature. Psychological Science, 12, 353-359. Berelson, B. (1949). What "missing the newspaper" means. In P. F. Lazarsfeld & F. Stanton (Eds.), Radio research 1948-1949 (pp. 111-129). New York: Harper & Brothers. Blumer, H. (1933). The movies and conduct. New York: Macmillan. Canada, K., & Brusca, F. (1991). The technological gender gap: Evidence and recommendations for educators and computer-based instruction designers. Educational Technology Research and Development, 39(2), 43-51. Carvalho, A. M. A., Smith, P. K., Hunter, T., & Costabile, A. (1990). Playground activities for boys and girls: Developmental and cultural tre...
View Full Document
This note was uploaded on 02/01/2009 for the course COMM 1126 taught by Professor Casad during the Spring '09 term at Cornell University (Engineering School).