This preview shows page 1. Sign up to view the full content.
View Full Document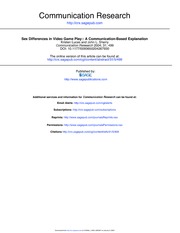 This is the end of the preview.
Sign up
to access the rest of the document.
Unformatted text preview: dividual differences in sex and socially constructed gendered perceptions of video games--shaped people's motivations for and patterns of game play. Based on established social norms, video games are perceived to belong in the male domain, and female players and male players alike experience greater social acceptance by staying within sex-role expectations. Consequently, based on their motivations for inclusion and affection, female players were less likely to be video game players, played for fewer hours, and did not seek out game-play situations for social interaction as much as male players did. Furthermore, female players also were less likely to enjoy game-play situations that involved three-dimensional rotation or games played for competition because they gained a lesser sense of control than they did in other interpersonal or play activities. Thus, we found that the gender differences in video game use were consistent with the uses-and-gratifications paradigm and FIRO theory. As with any study, however, there are limitations. We are troubled by the statistic...
View Full Document
This note was uploaded on 02/01/2009 for the course COMM 1126 taught by Professor Casad during the Spring '09 term at Cornell University (Engineering School).