This preview shows page 1. Sign up to view the full content.
View Full Document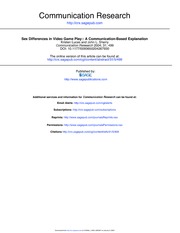 This is the end of the preview.
Sign up
to access the rest of the document.
Unformatted text preview: nds in children's perceptions for gender differences. Play and Culture, 3, 343-347. Cassell, J., & Jenkins, H. (1998). Chess for girls? Feminism and computer games. In J. Cassell & H. Jenkins (Eds.), From Barbie to Mortal Kombat: Gender and computer games (pp. 2-45). Cambridge, MA: MIT Press. Cooper, J., Hall, J., & Huff, C. (1990). Situational stress as a consequence of sex-stereotyped software. Personality and Social Psychology Bulletin, 16, 419-429. Cronin, H. (1992). The ant and the peacock: Altruism and sexual selection from Darwin to today. Cambridge, UK: Cambridge University Press. DeLisi, R., & Cammarano, D. M. (1996). Computer experience and gender differences in undergraduate mental rotation performance. Computers in Human Behavior, 12, 351-361. DeLisi, R., & Wolford, J. L. (2002). Improving children's mental rotation accuracy with computer game playing. Journal of Genetic Psychology, 163, 272282. Dietz, T. L. (1998). An examination of violence and gender role portrayals in video games: Implications...
View Full Document
This note was uploaded on 02/01/2009 for the course COMM 1126 taught by Professor Casad during the Spring '09 term at Cornell.