This preview shows page 1. Sign up to view the full content.
View Full Document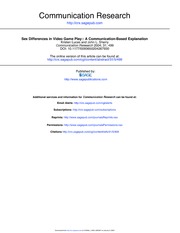 This is the end of the preview.
Sign up
to access the rest of the document.
Unformatted text preview: rs have a higher need for inclusion and control than a normative sample. Doherty and Whitehead (1986) have offered a heuristic for understanding cigarette use in family systems as a function of inclusion and need for control. Finally, a FIRO has been used to understand group leadership dynamics in such diverse contexts as school administration (Schutz, 1976), coachplayer relationships (Prapavessis & Gordon, 1991), and software product development teams (Fisher, Macrosson, & Walker, 1995). FIRO's emphasis on dynamic interaction between basic needs and social factors makes the theory ideal for integration with the uses and gratifications model. Furthermore, there is growing consensus that variables such as the ones Shutz explicated may be the result of evolutionary adaptation and, as such, are essential for understanding human behavior (Cronin, 1992). Anthropologists have long known that humans have always been social beings and likely have an instinctual bias toward interpersonal grouping (e.g., Pinker, 2002; Ridley, 2003). Unlike solitary animals, humans have been social throughout 200,...
View Full Document
This note was uploaded on 02/01/2009 for the course COMM 1126 taught by Professor Casad during the Spring '09 term at Cornell.