This preview shows page 1. Sign up to view the full content.
View Full Document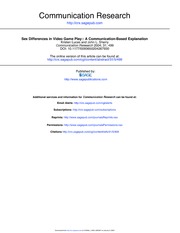 This is the end of the preview.
Sign up
to access the rest of the document.
Unformatted text preview: needs, esteem needs, and self-actualization needs. FIRO provides a theoretical framework for understanding people's interpersonal interactions (Schutz, 1958) in terms of Maslow's third need-- belonging and love. FIRO asserts that all people are oriented by three interpersonal needs: inclusion, affection, and control. The need for inclusion refers to an individual's desire to interact with others. In short, it is the desire for a sense of belonging to a dyad or group. The need for affection refers to the level of closeness desired in relationships, sometimes thought of as the interpersonal warmth and love experienced. The need for control refers to the level at which an individual wants to have power over the actions of others. The concept of control has been expanded since Schutz's original model to include also control over an individual's environment (Adams & Galanes, 2003). Although Schutz contended that all people possess these three needs, he explained that these orientations vary in st...
View Full Document
This note was uploaded on 02/01/2009 for the course COMM 1126 taught by Professor Casad during the Spring '09 term at Cornell University (Engineering School).