This preview shows page 1. Sign up to view the full content.
View Full Document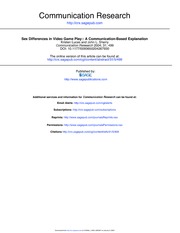 This is the end of the preview.
Sign up
to access the rest of the document.
Unformatted text preview: will be manifested in terms of gender differences in video game play is FIRO. First, FIRO deals directly with basic human need for interpersonal interaction, and, as described earlier, video game play fundamentally is a communicative phenomenon. Second, people's ability to meet their interpersonal orientations (i.e., inclusion, affection, and control) is affected by individual differences (e.g., sex differences) and social factors (e.g., the socially constructed, gendered nature of video game play). FIRO, supplemented by existing empirical evidence, offers a viable way to anticipate how those factors will interact with one another to explain and predict gender differences in the uses and gratifications derived from video game play, genre preferences, and play patterns. Inclusion and affection, although qualitatively different, are theoretically linked to one another; that is, although these orientations may be different for individuals (e.g., someone can be strongly motivated by inclusion but only mini...
View Full Document
This note was uploaded on 02/01/2009 for the course COMM 1126 taught by Professor Casad during the Spring '09 term at Cornell University (Engineering School).