This preview shows page 1. Sign up to view the full content.
View Full Document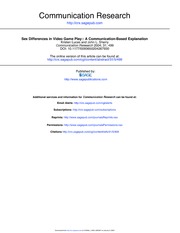 This is the end of the preview.
Sign up
to access the rest of the document.
Unformatted text preview: arousal--to play because the game is exciting. Follow-up research using their scale revealed important patterns of game usage, perhaps the most notable of which was sizable differences between the men and women who participated in the study (Sherry & Lucas, 2003). As conceived by Rosengren (1974), media use is a function of basic human needs, individual differences, and social influences (see Figure 1). Because different media are theorized to placate different needs (e.g., newspapers and information, film and emotional release, etc.), the model does not provide a specific account of which needs, individual differences, and social influences may lead to patterns of particular media use. Furthermore, the model does not account for the nature of the differences between men and boys and women and girls; that is, uses and gratifications acknowledges that differences such as social and biological sex differences can lead to different media usage patterns among and gratifications sought by men and women; however, it does not offer any indic...
View Full Document
This note was uploaded on 02/01/2009 for the course COMM 1126 taught by Professor Casad during the Spring '09 term at Cornell.