This preview shows page 1. Sign up to view the full content.
View Full Document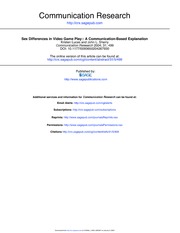 This is the end of the preview.
Sign up
to access the rest of the document.
Unformatted text preview: uraged from video game playing in public situations, the lure of a good challenge may be enough to draw female players back to video games at least to a small extent. However, female players may be drawn to games over which they feel they have more control. Specifically, drawing on Kimura's (1999) research on biological sex differences (i.e., women and girls are less skilled than men and boys at mental rotation, maze navigation, and projectile directing/intercepting), we predict that 509 Downloaded from http://crx.sagepub.com at CORNELL UNIV LIBRARY on January 2, 2009 COMMUNICATION RESEARCH October 2004 female players will feel more control in games that center on skills other than mental rotation: Hypothesis 4: Young women will enjoy non-mental rotation games more than mental rotation games. Likewise, being equally driven by challenge, young men will be drawn to games that provide an optimal challenge based on their cognitive strengths. As such Hypothesis 5: Young men will enjoy mental rotation games more than nonmental rotation games. Hypothesis 6: Young men will enjoy mental rotation games more than young women will. Another wrinkle that is added to meeting the interpersonal need for control is the so...
View Full Document
This note was uploaded on 02/01/2009 for the course COMM 1126 taught by Professor Casad during the Spring '09 term at Cornell University (Engineering School).