This preview shows page 1. Sign up to view the full content.
View Full Document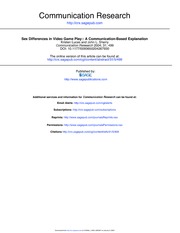 This is the end of the preview.
Sign up
to access the rest of the document.
Unformatted text preview: = 4.07). Furthermore, social interaction was the lowest gratification for young women but the second highest gratification for young men. Therefore, Hypothesis 2 was supported. See Table 2 for differences in male players' and female players' gratifications of video game playing and their respective effect sizes. Hypothesis 3 stated that young women and young men will be highly motivated to play video games by challenge. This hypothesis was tested by examining the relative ranking of challenge compared to other uses and gratifications (Table 3). For young women and young men, challenge was the toprated gratification. In addition, t tests were run to compare the difference between challenge and young women's and young men's next highest rated gratification. Compared to challenge (M = 4.23, SD = 1.32), young women rated their second highest gratification (arousal: M = 3.29, SD = 1.38) significantly lower t(302) = 16.27, p < .001, and the effect size was moderate, d = .70. For young men,...
View Full Document
This note was uploaded on 02/01/2009 for the course COMM 1126 taught by Professor Casad during the Spring '09 term at Cornell University (Engineering School).