This preview shows page 1. Sign up to view the full content.
View Full Document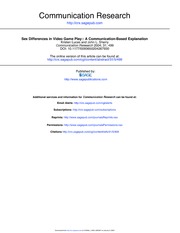 This is the end of the preview.
Sign up
to access the rest of the document.
Unformatted text preview: ifferences between women and men were significantly different (p < .05). ** Mean differences between women and men were significantly different (p < .001). players and male players but had a significantly higher mean than the second-ranked gratification for female players and male players, supporting Hypothesis 3. Hypothesis 4, that young women will enjoy non-mental rotation games more than mental rotation games, and Hypothesis 5, that young men will prefer mental rotation games, were tested by comparing reported liking of genre factors that either did or did not center on skills such as mental rotation and route navigation. Game genres were factored in patterns of game liking based on strength of correlation using principal axis factoring (see Table 4 for factor loadings). The factor analysis resulted in three game type factors: traditional, which included card/dice, classic board games, quiz/trivia, puzzle, and arcade games; physical enactment, which included fighters, shooters, sports, and racing/speed games; and imaginatio...
View Full Document
This note was uploaded on 02/01/2009 for the course COMM 1126 taught by Professor Casad during the Spring '09 term at Cornell University (Engineering School).