This preview shows page 1. Sign up to view the full content.
View Full Document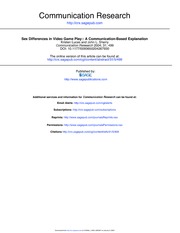 This is the end of the preview.
Sign up
to access the rest of the document.
Unformatted text preview: mally motivated by affection), inclusion is a necessary precursor to affection. If someone is not included in an interpersonal group or dyad, that person will be unable to develop warmth and closeness, regardless of the strength of his or her respective interpersonal needs. On the other hand, a person can be included in a group yet not experience affection. This connection is important for understanding gender differences in video game play, particularly for understanding the uses and gratifications sought by potential players. Young adult men and women appear to be equally motivated by desire for inclusion, affection, and control. In an early study examining sex differences, Schutz (1958) found no significant difference between Harvard (all men) freshmen and Radcliffe (all women) freshmen on desire for inclusion, affection, and control (though men were more likely to express these behaviors). A later study (Floyd, 1988) also found no significant differences in inclusion, affection, and control in a sample of 123 college-age men and women. Therefore, there is evidence that college men and women are equally lik...
View Full Document
This note was uploaded on 02/01/2009 for the course COMM 1126 taught by Professor Casad during the Spring '09 term at Cornell University (Engineering School).