This preview shows page 1. Sign up to view the full content.
View Full Document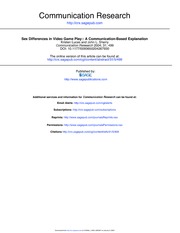 This is the end of the preview.
Sign up
to access the rest of the document.
Unformatted text preview: p. 3-33). New York: Duell, Sloan, and Pearce. Kane, M. J. (1990). Female involvement in physical recreation: Gender role as constraint. Journal of Physical Education, Recreation, and Dance, 61(1), 44-56. Kaplan, S. J. (1983). The image of amusement arcades and differences in male and female video game playing. Journal of Popular Culture, 16, 93-98. Kimura, D. (1999). Sex and cognition. Cambridge, MA: MIT Press. Kinder, M. (1996). Contextualizing video game violence: From Teenage Mutant Ninja Turtles 1 to Mortal Kombat 2. In P. M. Greenfield & R. R. Cocking (Eds.), Interacting with video (pp. 25-38). Norwood, NJ: Ablex. 521 Downloaded from http://crx.sagepub.com at CORNELL UNIV LIBRARY on January 2, 2009 COMMUNICATION RESEARCH October 2004 Laurel, B. (1998). An interview with Brenda Laurel. In J. Cassell & H. Jenkins (Eds.), From Barbie to Mortal Kombat: Gender and computer games (pp. 118-135). Cambridge, MA: MIT Press. Lawton, C. A., & Morrin, K. A. (1999). Gender differences in pointing...
View Full Document
This note was uploaded on 02/01/2009 for the course COMM 1126 taught by Professor Casad during the Spring '09 term at Cornell University (Engineering School).