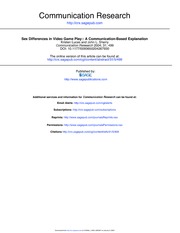 This is the end of the preview.
Sign up
to access the rest of the document.
Unformatted text preview: nce Erlbaum. Ruggiero, T. E. (2000). Uses and gratifications theory in the 21st century. Mass Communication and Society, 3, 3-37. Schramm, W., Lyle, J., & Parker, E. (1961). Television in the lives of our children. Palo Alto, CA: Stanford University Press. Schutz, W. C. (1958). FIRO: A three-dimensional theory of interpersonal behavior. New York: Rinehart and Company. Schutz, W. C. (1976). The FIRO administrator: Theory, criteria, and measurement of effectiveness. Group and Organization Studies, 1(2), 154-176. Selnow, G. W. (1984). Playing videogames: The electronic friend. Journal of Communication, 34(2), 148-156. 522 Downloaded from http://crx.sagepub.com at CORNELL UNIV LIBRARY on January 2, 2009 Lucas, Sherry Sex Differences in Video Game Play Sherry, J. L. (2001). The effects of violent video games on aggression: A metaanalysis. Human Communication Research, 27, 409-431. Sherry, J. L., & Lucas, K. (2003, May). Video game uses and gratifications as predictors of use and gam...
View Full Document
This note was uploaded on 02/01/2009 for the course COMM 1126 taught by Professor Casad during the Spring '09 term at Cornell.