This preview shows page 1. Sign up to view the full content.
View Full Document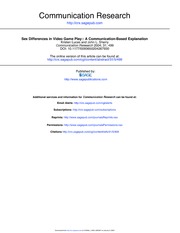 This is the end of the preview.
Sign up
to access the rest of the document.
Unformatted text preview: e preference. Paper presented at the annual conference of the International Communication Association, San Diego, CA. Subotnik, L. S., & Petrik, N. (1991). Woman-batterers' perceptions of self compared to partners' perceptions before and after treatment: A preliminary report. Family Violence Bulletin, 7(1), 17-19. Subrahmanyam, K., & Greenfield, P. M. (1994). Effects of video game practice on spatial skills in girls and boys. Journal of Applied Developmental Psychology, 15, 13-32. Warren, J., & Lanning, W. (1992). Sex role beliefs, control, and social isolation of battered women. Journal of Family Violence, 7(1), 1-8. Wilder, G., Mackie, D., & Cooper, J. (1985). Gender and computers: Two surveys of computer-related attitudes. Sex Roles, 13, 215-228. Woodard, E. H., IV, & Gridina, N. (2000). Media in the home 2000: The fifth annual survey of parents and children (Survey Series No. 7). Philadelphia: Annenberg Public Policy Center of the University of Pennsylvania. Wright, J. C., Huston, A. C., Vadewater, E. A., Bickham, D. S., Scantlin, R. M., Kotler, J. A., et al. (2001). American children's use of electronic media in 1997: A national s...
View Full Document
This note was uploaded on 02/01/2009 for the course COMM 1126 taught by Professor Casad during the Spring '09 term at Cornell University (Engineering School).