This preview shows page 1. Sign up to view the full content.
View Full Document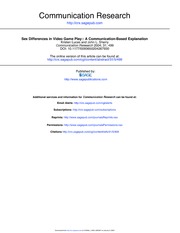 This is the end of the preview.
Sign up
to access the rest of the document.
Unformatted text preview: = .95. They liked imagination games (M = 4.11, SD = .93) more than female players did (M = 3.57, SD = 1.15), t(521) = 5.76, p < .001, d = .52. See Table 3 for differences in male players' and female players' liking of video game genres. Hypothesis 7 posited that young men will be more motivated by competition than young women will. Male players reported their gratification of competition (M = 3.87, SD = 1.47) higher than female players reported theirs (M = 2.73, SD = 1.41). This difference was significant, t(531) = 9.12, p <.001, and 516 Downloaded from http://crx.sagepub.com at CORNELL UNIV LIBRARY on January 2, 2009 Lucas, Sherry Sex Differences in Video Game Play the effect size was large, d = .80. ANCOVA analysis results confirm a significant F(2, 531) = 55.46, p < .001, and large, partial 2 = .17, difference even after controlling for playing time per week. As such, Hypothesis 7 was supported. Hypothesis 8, that young women will be more motivated by challenge than by competition was tested with a t test. Among female players, challenge...
View Full Document
This note was uploaded on 02/01/2009 for the course COMM 1126 taught by Professor Casad during the Spring '09 term at Cornell University (Engineering School).