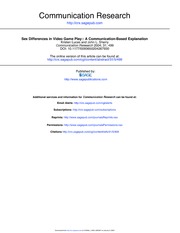 This is the end of the preview.
Sign up
to access the rest of the document.
Unformatted text preview: ness of physical activities: A further analysis. Play and Culture, 5, 305-313. Phillips, C. A., Rolls, S., Rouse, A., & Griffiths, M. D. (1995). Home video game playing in schoolchildren: A study of incidence and patterns of play. Journal of Adolescence, 18, 687-691. Pinker, S. (2002). The blank slate: The modern denial of human nature. New York: Viking. Prapavessis, H., & Gordon, S. (1991). Coach/player relationships in tennis. Canadian Journal of Sport Sciences, 16, 229-233. Ridley, M. (2003). Nature via nurture: Genes, experience, and what makes us human. New York: Harper Collins. Rosengren, K. E. (1974). Uses and gratifications: A paradigm outlined. In J. G. Blumler & E. Katz (Eds.), The uses of mass communications: Current perspectives of gratifications research (pp. 269-286). Beverly Hills, CA: Sage. Rubin, A. M. (2002). The uses-and-gratifications perspective of media effects. In J. Bryant & D. Zillmann (Eds.), Media effects: Advances in theory and research (2nd ed., pp. 525-548). Mahwah, NJ: Lawre...
View Full Document
This note was uploaded on 02/01/2009 for the course COMM 1126 taught by Professor Casad during the Spring '09 term at Cornell.