This preview shows page 1. Sign up to view the full content.
View Full Document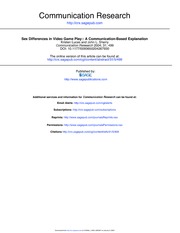 This is the end of the preview.
Sign up
to access the rest of the document.
Unformatted text preview: ally significant lower means for all the video game use motivations by the young women in the current study. Young women's lower reported motivations may, in itself, explain why they are less likely than young men to 517 Downloaded from http://crx.sagepub.com at CORNELL UNIV LIBRARY on January 2, 2009 COMMUNICATION RESEARCH October 2004 play video games. Originally, we expected that some motivations would be associated with male players and others with female players. One explanation was that young men play games more often and may be more generally enthusiastic about game play than young women are. This idea did not hold up to our ANCOVA analysis controlling for amount of game play. Next, we thought the differences may be due to methodological bias. However, the focus group sample we used to identify the set of uses and gratifications was about 65% female players. In addition, the research team that helped develop the scales comprised mostly women who reflected on personal experience in the process. If anything, we would suspect this process would ha...
View Full Document
This note was uploaded on 02/01/2009 for the course COMM 1126 taught by Professor Casad during the Spring '09 term at Cornell University (Engineering School).