This preview shows page 1. Sign up to view the full content.
View Full Document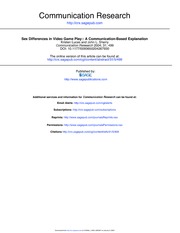 This is the end of the preview.
Sign up
to access the rest of the document.
Unformatted text preview: & Gridina, 2000). Others argue that the gender gap in game use and derived benefits may have less to do with access than it does with play preference and game design. For example, video games have been criticized for having either highly sexualized or weak female protagonists that can turn away potential female players (Dietz, 1998). Others believe that the emphasis on competition and violence deters girls from playing (Funk & Buchman, 1996b). Regardless of the source of differences in game ownership and use, girls simply are not enjoying the advantages that boys do in terms of early socialization to computer technology. Although many researchers have explored the consistent gender differences in video game preferences and play patterns, to date, the origin of the differences remains unexplained (Funk & Buchman, 1996b). This article offers one such explanation. Rather than viewing the gaming experience as an individual cognitive experience, we argue that the gender differences evidenced in video game play can be explained best by examining the gaming experience as a multil...
View Full Document
This note was uploaded on 02/01/2009 for the course COMM 1126 taught by Professor Casad during the Spring '09 term at Cornell University (Engineering School).