This preview shows page 1. Sign up to view the full content.
View Full Document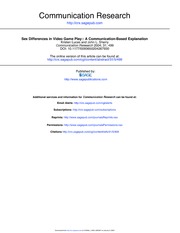 This is the end of the preview.
Sign up
to access the rest of the document.
Unformatted text preview: as restricting personal potential (Kane, 1990) or placing girls at a future disadvantage by isolating them from a rules-based competitive environment, which boys learn to navigate at an early age through play. As such, removing the complex and competitive elements from video games--although those changes initially may lure female players to video game playing--can have serious long-term implications. Rather than making cosmetic changes or reducing the complexity of games, redesign efforts should focus on playing into female players' natural cognitive abilities. Grodal (2000) explained that video games have long been designed to capitalize on masculine hunting abilities (e.g., mental rotation, route navigation, projectile guiding or interception). He commented, "It is deplorable that the video game industry has not yet invented games that cater to those gatherer skills and motivations that are attractive to girls" (p. 209). Specifically, games can be designed in a way that makes female players' natural cognitive abilities a central focus...
View Full Document
This note was uploaded on 02/01/2009 for the course COMM 1126 taught by Professor Casad during the Spring '09 term at Cornell University (Engineering School).