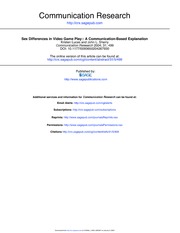 This is the end of the preview.
Sign up
to access the rest of the document.
Unformatted text preview: needs and gratifications met by video games. Research in the United Kingdom has touched on uses and gratifications of video game playing exclusively. Phillips et al. (1995) revealed several uses of video game playing: to pass time, to avoid doing other things, to cheer oneself up, and just for enjoyment. Furthermore, in his 502 Downloaded from http://crx.sagepub.com at CORNELL UNIV LIBRARY on January 2, 2009 Lucas, Sherry Sex Differences in Video Game Play research on identifying types of video game addicts, Griffiths (1991a, 1991b) intimated additional uses and gratifications, including arousal, social rewards, skill testing, displacement, and stress reduction. Sherry and Lucas (2003) developed a comprehensive player-based video game uses and gratifications scale, using a methodology similar to the one used to develop Greenberg's (1974) original television uses and gratifications scale. Focus group sessions and structured interviews revealed six principal reasons why people play video games: competition--to be the best player of the game; challenge--to push oneself to beat the game or get to the next highest level; social interaction--to play as a social experience with friends; diversion--to pass time or to alleviate boredom; fantasy--to do things that you cannot do in real life such as driving race cars or flying; and...
View Full Document
This note was uploaded on 02/01/2009 for the course COMM 1126 taught by Professor Casad during the Spring '09 term at Cornell.