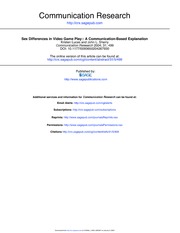 This is the end of the preview.
Sign up
to access the rest of the document.
Unformatted text preview: of a large-scale survey (n = 534) of young adults' reasons for video game use, preferred game genres, and amount of game play are reported. Female respondents report less frequent play, less motivation to play in social situations, and less orientation to game genres featuring competition and three-dimensional rotation. Implications for game design are discussed. Keywords: video games; sex differences; FIRO; uses and gratifications Although there exists an understandable fascination with the relationship between violence and video games among scholars and the general public, video games do not produce only negative effects. Video games have been linked to several positive benefits such as acquisition of computer literacy (Greenfield et al., 1994; Greenfield & Cocking, 1996; Griffiths, 1991b), improvement of cognitive and attention skills (Green & Bavelier, 2003; Subrahmanyam & Greenfield, 1994), development of positive attitudes toward technology (Canada & Brusca, 1991), and entry into jobs in high-tech fields (Cassell & Jenkins, 1998; Margolis &...
View Full Document
This note was uploaded on 02/01/2009 for the course COMM 1126 taught by Professor Casad during the Spring '09 term at Cornell.