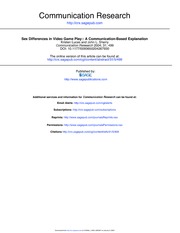 This is the end of the preview.
Sign up
to access the rest of the document.
Unformatted text preview: for gender socialization and aggressive behavior. Sex Roles, 38, 425-442. Doherty, W. J., & Whitehead, D. (1986). The social dynamics of cigarette smoking: A family systems perspective. Family Process, 25, 453-459. Etaugh, C., & Liss, M. B. (1992). Home, school, and playroom: Training grounds for adult gender roles. Sex Roles, 26, 129-147. Federman, J., Carbone, S., Chen, H., & Munn, W. (1996). The social effects of electronic interactive games: An annotated bibliography. Studio City, CA: Mediascope. Fisher, S. G., Macrosson, W. D., & Walker, C. A. (1995). FIRO-B: The power of love and the love of power. Psychological Reports, 76(1), 195-206. 520 Downloaded from http://crx.sagepub.com at CORNELL UNIV LIBRARY on January 2, 2009 Lucas, Sherry Sex Differences in Video Game Play Floyd, N. E. (1988). Interpersonal orientation and living group preferences: A validity check on FIRO-B. Psychological Reports, 62, 923-929. Ford, M. E., & Linney, J. A. (1995). Comparative analysis of juvenile sexual offenders, v...
View Full Document
This note was uploaded on 02/01/2009 for the course COMM 1126 taught by Professor Casad during the Spring '09 term at Cornell.