This preview shows page 1. Sign up to view the full content.
View Full Document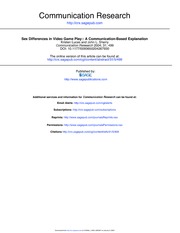 This is the end of the preview.
Sign up
to access the rest of the document.
Unformatted text preview: Berelson, 1949; Herzog, 1944). The model states, in part, that people perceive a variety of problems and possible solutions to those problems. Based on their perceptions, people develop different motives for gratificationseeking or problem-solving behavior, which they meet through media consumption or non-media-based activity. For example, some people may watch television sitcoms to meet their need for entertainment; others may watch the evening news to fulfill their need to keep updated on world events. In short, the focus of uses and gratifications research is centered on the reasons why individuals use media and the effects resulting from that use rather than effects that are experienced by passive recipients (Rosengren, 1974). In contrast to mechanistic effects research that assumes direct influence of media on message recipients, uses and gratifications assumes (a) that each medium or message is one possible source of influence among other possible influences; (b) media audiences are not passive but rather variably active communicators (meaning that they are not necessarily always active, but that they possess the agency to make choices); and (c) mediated communication is socially and psychologically...
View Full Document
This note was uploaded on 02/01/2009 for the course COMM 1126 taught by Professor Casad during the Spring '09 term at Cornell University (Engineering School).