This preview shows page 1. Sign up to view the full content.
View Full Document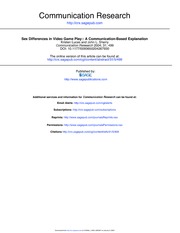 This is the end of the preview.
Sign up
to access the rest of the document.
Unformatted text preview: ield, P. M., Camaioni, L., Ercolani, P., Weiss, L., Lauber, B. A., & Perucchini, P. (1994). Cognitive socialization by computer games in two cultures: Inductive discovery or mastery of an iconic code? Journal of Applied Developmental Psychology, 15, 59-85. Greenfield, P. M., & Cocking, R. R. (1996). Interacting with video. Norwood, NJ: Ablex. Griffiths, M. D. (1991a). Are computer games bad for children? The Psychologist: Bulletin of the British Psychological Society, 6, 401-407. Griffiths, M. D. (1991b). The observational analysis of adolescent gambling in U.K. amusement arcades. Journal of Community and Applied Social Psychology, 1, 309-320. Grodal, T. (2000). Video games and the pleasure of control. In D. Zillman & P. Vorderer (Eds.), Media entertainment: The psychology of its appeal (pp. 197-213). Mahwah, NJ: Lawrence Erlbaum. Herzog, H. (1944). What do we really know about daytime serial listeners? In P. F. Lazarsfeld & F. Stanton (Eds.), Radio research 1942-1943 (p...
View Full Document
This note was uploaded on 02/01/2009 for the course COMM 1126 taught by Professor Casad during the Spring '09 term at Cornell University (Engineering School).