This preview shows page 1. Sign up to view the full content.
View Full Document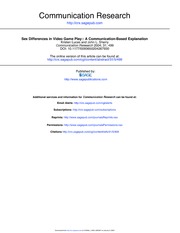 This is the end of the preview.
Sign up
to access the rest of the document.
Unformatted text preview: (M = 4.23, SD = 1.32) was rated higher than competition (M = 2.73, SD = 1.41) as a motivator to play video games. The difference was significant, t(301) = 21.67, p < .001, and the effect size was large, d = 1.10. Furthermore, challenge gratification had the highest mean for young women with competition ranking fourth among young women. Therefore, Hypothesis 8 was supported. Discussion Funk and Buchman (1996b) noted that although studies have consistently found gender differences in video game play, "The origin of gender differences in game-playing habits has not yet been established" (p. 27). The current study attempted to offer one such theoretical account--and empirical support for that account. Specifically, we focused on the communicative nature of video game play in an attempt to seek an explanation for the consistent and pervasive differences that have been witnessed in the adolescent culture. To gain a better understanding of gender differences in game use, we examined video game play as an interpersonal communication phenomenon. Within the interpersonal context in which game play occurs, needs for inclusion, affection, and control--as well as in...
View Full Document
This note was uploaded on 02/01/2009 for the course COMM 1126 taught by Professor Casad during the Spring '09 term at Cornell University (Engineering School).