This preview shows page 1. Sign up to view the full content.
View Full Document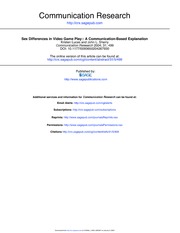 This is the end of the preview.
Sign up
to access the rest of the document.
Unformatted text preview: as their scores may indicate), female players' need for control is not being met by video games as well as male players' need for control is being met. Therefore, as would be predicted by the uses and gratifications paradigm, women and girls are likely to turn elsewhere for meeting their need for control. The combined evidence of boys performing better than girls and girls turning away from video games further perpetuates the stereotyping of video games as so-called boy toys. As such, girls are even more strongly steered away from video games by way of social sanction by peers; that is, girls' interpersonal needs of inclusion and affection are denied if they continue to seek out the cross-sex stereotyped activity of video game playing. Of course, this is not an absolute pattern. Video games remain an integral part of the adolescent culture, regardless of sex (Greenfield, 1994). Girls may be turned away to some extent from games--especially more "masculine" games; however, they do not abandon the video game experience altogether. Although female players may be disco...
View Full Document
This note was uploaded on 02/01/2009 for the course COMM 1126 taught by Professor Casad during the Spring '09 term at Cornell University (Engineering School).