This preview shows page 1. Sign up to view the full content.
View Full Document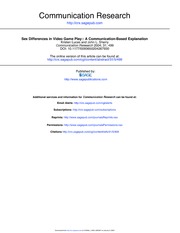 This is the end of the preview.
Sign up
to access the rest of the document.
Unformatted text preview: acturers have made efforts to tap into the female gamers' market by designing games for girls and women. Unfortunately, early attempts in this arena have focused on adding female protagonists, such as the ones which were strongly scorned by Dietz (1998) for being too sexualized, reducing violent content, and slowing the speed of the game (Kinder, 1996; Laurel, 1998). These changes have been criticized as being completely off track and perfunctory, in essence, building the "computer game equivalent of pink Legos" (Laurel, 1998, p. 122) or "slapping the pink bow on `Pacman'" (Cassell & Jenkins, 1998, p. 24). Furthermore, it is unclear as to whether the long-term benefits derived from video game play (e.g., career success in high-tech fields) have more to do with the technological or the competitive nature of the game. Game redesign that has focused on transporting traditional girls' games to a video game format may only be perpetuating some of the problems associated with noncompetitive girls play, such...
View Full Document
This note was uploaded on 02/01/2009 for the course COMM 1126 taught by Professor Casad during the Spring '09 term at Cornell University (Engineering School).