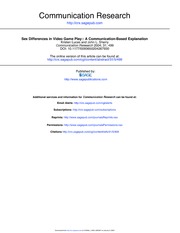 This is the end of the preview.
Sign up
to access the rest of the document.
Unformatted text preview: ommunication offered by the game. Third, similar to the personal connections that some people feel toward television characters, video games and their characters can provide a source of parasocial relationships for the game player. Therefore, to explain the complex phenomenon of video game playing, it is necessary to draw on mass and interpersonal communication theories. As such, the two frameworks that we use to explain gender differences in video game playing are (a) the uses and gratifications perspective on media use and (b) Schutz's (1958) fundamental interpersonal relationship orientation (FIRO) theory. Uses and Gratifications Theory Theoretical overview. Uses and gratifications is one of the oldest continuous research programs in mass communication, having conceptual roots in the Payne Fund movie studies in the 1920s (Blumer, 1933) and a series of studies conducted at Lazarfeld's Bureau of Applied Social Research in the 501 Downloaded from http://crx.sagepub.com at CORNELL UNIV LIBRARY on January 2, 2009 COMMUNICATION RESEARCH October 2004 1940s (...
View Full Document
This note was uploaded on 02/01/2009 for the course COMM 1126 taught by Professor Casad during the Spring '09 term at Cornell.