This preview shows page 1. Sign up to view the full content.
View Full Document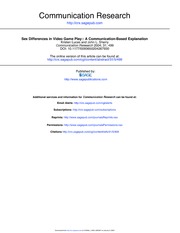 This is the end of the preview.
Sign up
to access the rest of the document.
Unformatted text preview: cially evaluative nature of video game playing; that is, many games are played in an environment where two players go head-to-head to beat one another at the game. This focus on competition (unlike challenge, where the competition is against the player's personal best or the game itself) places players in a position of being evaluated by at least one other peer. For those who excel at the game, competition can be a strong motivating factor for playing. However, for those who may struggle some with the game, competition can be a strong deterrent. As described earlier (assuming equal levels of prior experience or lack thereof), female players are at a disadvantage compared to male players based on the design of the games. However, female players may also be at a disadvantage in terms of gaining a sense of control, even when playing against other female players. Lenney (1977) reported that women and girls are less self-confident in situations when the task is sex inappropriate and when it is socially evaluative or comparative. Therefore, even competing against an equally skilled player can cause lower performance expectancie...
View Full Document
This note was uploaded on 02/01/2009 for the course COMM 1126 taught by Professor Casad during the Spring '09 term at Cornell University (Engineering School).