This preview shows page 1. Sign up to view the full content.
View Full Document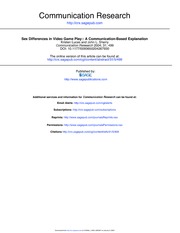 This is the end of the preview.
Sign up
to access the rest of the document.
Unformatted text preview: dy of film, television, or radio. This is a natural fit as video games are indeed a form of mass communication (i.e., they are mass-produced, mediated messages that have the potential to influence a large audience). However, examining the communicative aspects of video game playing solely from a mass communication perspective obscures potentially important contributions, namely, the contributions that can be made by examining the interpersonal dynamics among players during game play and in daily discourse as perceptions of gender are negotiated and learned. Although not widely examined as such, video game play is clearly a forum for interpersonal communication. First, video games can serve as a central activity for interpersonal interaction, providing an activity for friends to share (similar to playing cards, board games, or engaging in physical recreation). Second, online video gamers, who may appear to others to be playing alone, can interact with others across the game network and establish new friendships (and in some cases, romantic relationships) through the computer-mediated c...
View Full Document
This note was uploaded on 02/01/2009 for the course COMM 1126 taught by Professor Casad during the Spring '09 term at Cornell University (Engineering School).