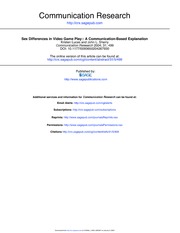 This is the end of the preview.
Sign up
to access the rest of the document.
Unformatted text preview: different satisfaction of the interpersonal orientation of control to different people based on their individual ability to master the game. Unfortunately, in terms of differential ability to control a video game, games are designed to capitalize on the strengths of male players instead of female players. For instance, Kimura (1999) reported that research on biological sex differences indicates that men and boys are better than women and girls at such tasks as mental rotation of three-dimensional objects, navigation through a route or maze, and targetdirected motor skills (e.g., guiding or intercepting projectiles). In contrast, women and girls are better at landmark memory (remembering details of 508 Downloaded from http://crx.sagepub.com at CORNELL UNIV LIBRARY on January 2, 2009 Lucas, Sherry Sex Differences in Video Game Play objects seen along a route), object displacement (identifying if an object is missing or has been moved), and perceptual speed (rapidly identifying matching items based on visual cues). One need to take only a cursory look at popular video games to confirm the male bias in game design. Among some of the most popular games are...
View Full Document
This note was uploaded on 02/01/2009 for the course COMM 1126 taught by Professor Casad during the Spring '09 term at Cornell.