This preview shows page 1. Sign up to view the full content.
View Full Document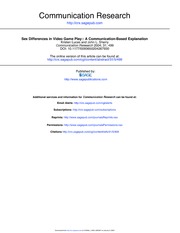 This is the end of the preview.
Sign up
to access the rest of the document.
Unformatted text preview: evel communicative phenomenon. We draw on mass and interpersonal communication theories to explain gender differences and how those processes interact to reinforce video game playing as part of the male domain. To support our argument, we first provide a theoretical account for gender differences in video game play patterns and preferences, specifically centering on communicatively focused theories. Second, we present empirical support of our theoretical framework, particularly results of a study that analyzed the differences between young women and men in regard to the video games they prefer and the uses and gratifications they derive from playing these games. Finally, we offer suggestions for how video games can be designed to encourage increased video game playing by young women, so that they, too, can garner the potential benefits that video games offer. Video Game Play as Communication As reflected in the impressive body of literature that has amassed in the past decades, video game play primarily has been studied within the discipline of psychology (Federman,...
View Full Document
This note was uploaded on 02/01/2009 for the course COMM 1126 taught by Professor Casad during the Spring '09 term at Cornell University (Engineering School).