This preview shows page 1. Sign up to view the full content.
View Full Document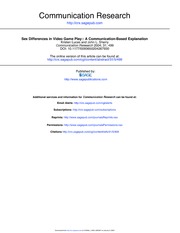 This is the end of the preview.
Sign up
to access the rest of the document.
Unformatted text preview: Games based on athletic teams and events Games where you create a simulation Games that focus on going fast Games where you shoot other characters Games that focus on martial arts or hand-tohand combat Games based on original arcade games Games that have an element of chance Games that test your knowledge Video game versions of old-time favorites Examples Command & Conquer, Civilization, Age of Empire Tetris, Free Cell Final Fantasy, Legend of Zelda, Diablo Resident Evil, Tomb Raider Tony Hawk's Pro Skater, NBA Jam Rollercoaster Tycoon, SimCity Super Mario Kart, Grand Turismo, Need for Speed Quake, Duke Nukem Mortal Combat, Tekkan Arcade Card/dice Quiz/trivia Classic board games PacMan, Frogger, Pinball Solitaire, Vegas Fever 2000 Jeopardy, Who Wants to be a Millionaire Monopoly, Checkers The uses and gratifications instrument was the 23-item scale developed by Sherry and Lucas (2003). Participants indicated their agreement with the scale items by circling their response on a Likert-type scale (1 = strongly disagree; 7 = strongly agree). The scale measured six vi...
View Full Document
This note was uploaded on 02/01/2009 for the course COMM 1126 taught by Professor Casad during the Spring '09 term at Cornell University (Engineering School).