This preview shows page 1. Sign up to view the full content.
View Full Document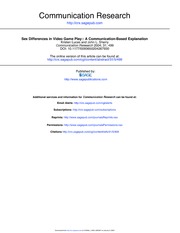 This is the end of the preview.
Sign up
to access the rest of the document.
Unformatted text preview: urs played in designated day parts during the typical week. The genres for the first component of the survey were identified by consulting previous research (e.g., Funk, 1993; Myers, 1990), video game magazines, popular gaming Web sites, and video game departments of retail stores and video game rental stores. Thirteen genres were identified: strategy, puzzle, fantasy/role playing, action/adventure, sports, simulation (sims), racing/ speed, shooter, fighter, arcade, card/dice, quiz/trivia, and classic board games (see Table 1 for a description and examples of each genre). The game categories and accompanying scale were pretested by a sample of 120 college students to ensure clarity of the instrument and the mutual exclusivity of the genres. Respondents indicated their liking of each genre by circling a Likerttype response from 1 (strongly dislike) to 6 (strongly like). An additional response choice of 0 (don't know) was included to prevent respondents from estimating their liking of a game genre with which they were unfamiliar. 511 Downloaded from http://crx.sagepub.com at CORNELL UNIV LIBRARY on January 2, 2009 COMMUNICATION RESEARCH October 2004 Table 1 Video Game Genres and Descriptions Genre Strategy Puzzle Fantasy/role playing Action/adventure Sports Simulation Racing/speed Shooter Fighter Description Games that use strategic planning skills Games that can be solved, no element of chance Games that let you assume a character role Games where you go on an adventure...
View Full Document
This note was uploaded on 02/01/2009 for the course COMM 1126 taught by Professor Casad during the Spring '09 term at Cornell.