This preview shows page 1. Sign up to view the full content.
View Full Document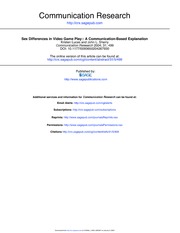 This is the end of the preview.
Sign up
to access the rest of the document.
Unformatted text preview: rength and direction across 504 Downloaded from http://crx.sagepub.com at CORNELL UNIV LIBRARY on January 2, 2009 Lucas, Sherry Sex Differences in Video Game Play people. Furthermore, people's individual orientations toward each of these needs (deficient, excessive, or ideal, to use Schutz's terms) can be used to predict people's interpersonal behaviors. Because of its emphasis on interaction among group members, FIRO has been most frequently researched in the areas of family and group relationships. One area of interest has been the dynamics of at-risk families (Allen, Calsyn, & Fehrenbach, 1989; Parr, 2000; Subotnik & Petrik, 1991; Warren & Lanning, 1992). For example, in a longitudinal study of primary caregivers in at-risk families, Parr (2000) found significant relationships between FIRO domains and a variety of family function indicators. The theory has also been used to understand family dynamics that lead to child criminal behavior and family substance abuse. Ford and Linney (1995) found that juvenile child moleste...
View Full Document
This note was uploaded on 02/01/2009 for the course COMM 1126 taught by Professor Casad during the Spring '09 term at Cornell.