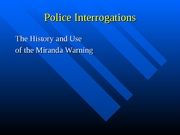 This is the end of the preview.
Sign up
to access the rest of the document.
Unformatted text preview: Police Interrogations The History and Use of the Miranda Warning Police Interrogations Interrogation has been defined by the US Supreme Court as any behaviors by the police "that the police should know are reasonably likely to elicit an incriminating response from the suspect." Police Interrogations So, interrogation goes beyond simple verbal comments or questions, and may involve staged lineups, blaming the victim or society, or minimizing the seriousness of an act to encourage a response from the su...
View Full Document
This note was uploaded on 11/19/2008 for the course CJC 101 taught by Professor Brown during the Spring '07 term at Ball State.