This preview shows page 1. Sign up to view the full content.
View Full Document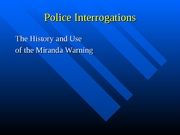 This is the end of the preview.
Sign up
to access the rest of the document.
Unformatted text preview: confessed (Brown v. Mississippi, 1936) Police Interrogations Inherent coercion: interrogated for two days straight by several interrogators while forced to stare into a bright light...was not "physically harmed and given food and cigarettes as requested...the conditions surrounding the interrogation were coercive (Ashcroft v. Tennessee, 1944) Police Interrogations Psychological manipulation: interrogations may not use sophisticated trickery to solicit confessions...using skills psychiatric examiners (Leyra v. Denno, 1954) Police Interr...
View Full Document
This note was uploaded on 11/19/2008 for the course CJC 101 taught by Professor Brown during the Spring '07 term at Ball State.