This preview shows page 1. Sign up to view the full content.
View Full Document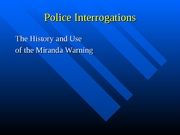 This is the end of the preview.
Sign up
to access the rest of the document.
Unformatted text preview: spect. Police Interrogations In spite of all this, the Supreme has held that interrogations begin with "pointed or directed" questions. The interrogation begins when LE asks questions that are intended to elicit information about the crime in question. Police Interrogations Interrogations have Constitutional limitations... Physical abuse: accused was dragged from his home , rope was placed around his neck... others were arrested bent over chairs at the local jail and whipped with belts and buckles... until they...
View Full Document
This note was uploaded on 11/19/2008 for the course CJC 101 taught by Professor Brown during the Spring '07 term at Ball State.