This preview shows page 1. Sign up to view the full content.
View Full Document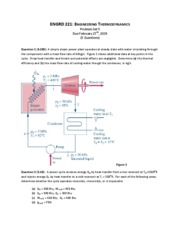 This is the end of the preview.
Sign up
to access the rest of the document.
Unformatted text preview: to the surroundings at 20oC by heat transfer from metal coils whose average surface temperature ins 28oC. Determine: (a) The rate energy is rejected, in kW. (b) The lowest theoretical temperature inside the refrigerator in K. (c) The maximum theoretical power, in kW, that could be developed by a power cycle operating between the coils and the surroundings. Would you recommend making use of this opportunity for developing power? Figure 3 Question 5 (5.75): Tw...
View Full Document
This note was uploaded on 03/15/2010 for the course ENGRD 2210 taught by Professor Torrance during the Spring '08 term at Cornell University (Engineering School).