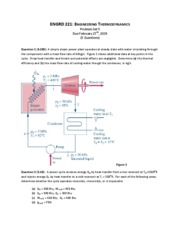 This is the end of the preview.
Sign up
to access the rest of the document.
Unformatted text preview: . For eash of the following cases, determine whether the cycle operates reversibly, irreversibly, or is impossible. (a) (b) (c) (d) QH = 900 Btu, Wcycle = 450 Btu QH = 900 Btu, QC = 300 Btu Wcycle = 600 Btu, QC = 400 Btu ηcycle = 70% Question 3 (5.25): As shown in Figure 2, two reversible cycles arranged in series, each produce the same net work, Wcycle. The first cycle receives energy QH by heat transfer from a hot reservoir at 1000oR and rejects energy Q by heat transfer to a reservoir at an intermediate temperature, T. The second cycle receives energy Q by heat transfer from the reservoir at temperature T and rejects energy...
View Full Document
This note was uploaded on 03/15/2010 for the course ENGRD 2210 taught by Professor Torrance during the Spring '08 term at Cornell.