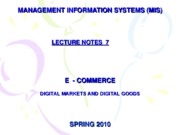 This is the end of the preview.
Sign up
to access the rest of the document.
Unformatted text preview: dicators have emerged as another variant of the Online Content Provider Business Model. The Web makes it much easier for companies to aggregate, repackage, and distribute The information and information-based services. Application Service Providers provide online services to subscribing Businesses. Other Service Providers offer services to Individual consumers, such as Remote Storage of data at Xdrive.com or online Photo storage and digital photo printouts at Ofoto.com. Service Providers generate revenue through subscription fees or from advertising. ELECTRONIC COMMERCE (E-commerce) ELECTRONIC Although most commercial transaction still takes place through traditional retail Although channels, rising numbers of consumers and businesses are using the Internet for electronic commerce. electronic TYPES OF ELECTRONIC COMMERCE There are many ways of classifying Electronic Commerce transactions. There One way is by looking at the nature of the participants in the e-commerce transactions. The three major e-commerce categories are : The • Business-to-Consumer (B2C) B...
View Full Document
This note was uploaded on 08/12/2011 for the course ITEC 421 taught by Professor Huseyingursev during the Spring '11 term at Eastern Mediterranean University.